Homeland participated at event Food Alco Expo 2020 at the end of the year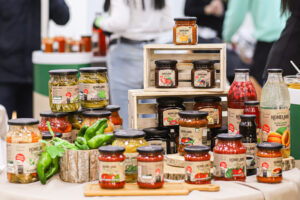 Homeland brand, which has recently appeared on the market, but is already loved by consumers with its wide range, participated in 𝑭𝒐𝒐𝒅 𝑨𝒍𝒄𝒐 𝑬𝒙𝒑𝒐 2020 event in December last year. Our participation allowed us to treat a large number of consumers again with the products added to our new range, and also gave the consumer the opportunity to purchase them on the spot. We are happy that more and more people are using Homeland's products day by day, their evaluation is the best motivation to increase the range, develop production capacities, conquering larger markets. Our products are distinguished by their safety and high quality, because the consumer is demanding when it comes to his health and taste evaluation.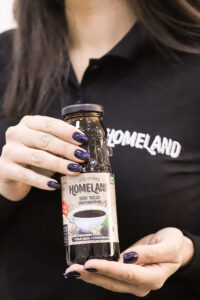 Homeland offers over 100 names of the tastiest canned goods. Taking into account the rather large potential of the local market and the wide opportunities of foreign markets, as well as the need to introduce new business, develop and create additional jobs in the country, it was decided to establish a canned food factory equipped with progressive and innovative technologies to provide quality and tasty products to the consumer. The event made it possible to deliver this information to the consumer and present all this to a large number of people in a short time.
Exhibitions in general allow a large number of people to present the product, give an opportunity to taste on the spot and get acquainted with the brand's variety and taste peculiarities. Specialists get the opportunity to present the peculiarities of their products, tell about their production and technological nuances, provide direct and warm contact with consumers, the latter become permanent consumers and loyal customers after such interactions. Such events make any brand presentable, based on a beautiful and properly arranged booth, product presentation, packaging, professionalism of employees and other circumstances. Without excessive modesty, we accomplished the task set before us excellently, standing out with our beautifully designed booth and the warmth of our employees, which is evidenced by the references to our page after the event, the increase in consumption, and people's loyalty to our product line. Our priority is our customer's satisfaction and loyalty, events like this constantly reinforce it and enable us to work more motivated as a company.
Our company constantly follows market trends, constantly changing consumer demands, so this year we are going to participate in other similar events organized in Armenia and abroad in order to present ourselves with a new range and to present the already popular range to more people. Follow us and you will be informed about upcoming events, where we will gladly wait for you.
We look forward to hearing your questions and suggestions, and will be happy to answer any letters you may send us: https://www.facebook.com/homelandcompany